Bike Brighton - Bicycle Maintenance Training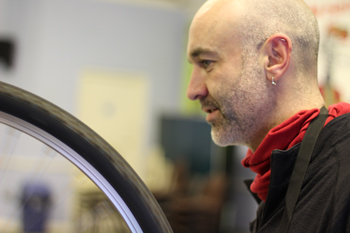 My name is Iain, I love bikes. I have been helping people fix their bikes since 2007. I have enjoyed many aspects of cycling from mountain biking in The Alps, bike touring in Europe and The States, sportives and audaxes in the UK to cycle couriering and cycling gardening for work. The combination of all this has given me experience in dealing with all manner of bike maintenance tasks from daily maintenance to to building a bike up from scratch.
I am a qualified bike mechanic, trained to Velotech Platinum level. I also have an enhanced DBS certificate (the modern equivalent to a CRB check).
I'm happy to offer training courses for groups and individuals in Brighton and Hove. I am currently working at Cranks DIY bike workshop, the 67 Centre youth club in Moulsecoomb. I have also worked with the Brighton and Hove council to set up Whitehawk Bike Workshop in St David's Hall in Whitehawk. I provided training for volunteers at Brighton Bike Hub and for the bike projects at Sussex and Brighton universities. I also run private training sessions tailored to the trainees existing knowledge and requirements.
I can run courses covering the basic elements of bike maintenance (fixing a puncture and oiling your chain) through adjusting your brakes and gears to replacing just about anything on your bike.
Know Your Limits

I do not currently offer training in servicing suspension forks or shocks or Sturmey Archer and other hub gear systems. We're lucky in Brighton to have loads of great bike shops and if you need some work done on any of the above I'd suggest giving one of them a call to chat about booking your bike in. Or if you're particularly keen to do it yourself have a look for some tutorials online.

The workshops I teach in are well equipt but do not have all the tools in the world. We can't ream or face head tubes or bottom brackets for example. If you don't know what this means you probably don't need it done and certainly shouldn't worry about it.
Mountain Bike Leader

I am also a qualified mountain bike leader, happy to take groups and individuals out mountain biking on The South Downs and around some of the many trails at Stanmer Park.
Please get in touch for a chat.
Email iain@bikebrighton.com
Telephone 07800 802697